Popcorn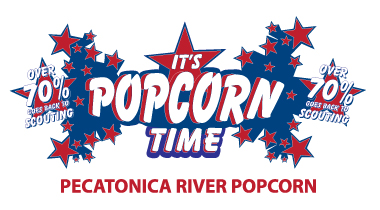 Popcorn Prize Infromation
Additional Rewards
Fill It Up: Fill an entire order form and qualify for entry into a drawing for 2 tickets to Cedar Point for the 2018 season. There will be one set awarded per District.
Seller's Club
$650 Club: $650 earns you a $20 Scout Shop Gift card.

BRONZE Sellers Club: $800 earns you the benefits in the above Sellers Club and a special patch. This level also gives the Scout 1 ticket to the Sellers Club Event – a Galactic Galla Private Showing of Star Wars Episode 8 "The Last Jedi".

SILVER Sellers Club: $1,500 earns you the benefits in the above Sellers Clubs. The Scout will also earn a ticket for one parent to attend the Sellers Club event.

GOLD/WINNERS CIRCLE Sellers Club: $2,500 earns you the benefits in the above Sellers Clubs. At this level the Scout will also earn a Snack Pack for the Sellers Club Event. The Scout will also earn his choice of one item from the Winners Circle prizes. The Winners Circle prizes will need to be submitted through the Pecatonica website. An email will then be sent to the parent's email address to choose/claim prize once verification of sales is confirmed.

PLATINUM Sellers Club: $10,000 earns you the benefits in the above Sellers Clubs and a special medal, a private pizza party for 25 guests and special recognition at the Council Recognition Banquet.

Number One Sales Person in Council: The Scout, Explorer or Venturer with the highest sales in the council will be honored at the Annual Council Dinner.
Eligibility/Additional Information
Prize Order Form and Prize Registration Forms must be completed in their entirety and returned to either Scout Service Center on or before October 28, 2017. Please make sure your forms are completely filled out and legible. These forms will be used to verify eligibility in ALL incentive programs, so please have them in on time. All Scouts must be a registered youth with the Black Swamp Area Council to take part in any of the prize programs.
All prize order forms turned in later than October 28, 2017 will not be guaranteed. The council will do its best to accommodate any additions or corrections to Prize Orders. However, prize costs and shipping charges may be passed onto the Unit for any changes made after November 13, 2017. All prizes are subject to substitution by the prize company; all substitutions will be of an equal or greater value.
Rewards dollars are not transferable and are for YOUTH ONLY!
Warehouse Locations
Arrowwood
Warehouse Location: G2 Revolutions, 14601 CR 212, Findlay, OH 45840 (Go through gated area, loading area is at back corner of building)
Chinquapin
Warehouse Location: Keller Warehousing & Distribution, 24862 Elliott Road, Defiance, OH 43512
Great Oaks
Warehouse Location: Lane's Records & Storage, 245 E Murphy St, Lima, OH 45801
Old Sycamore
Warehouse Location: Manco Mfg., 2411 Rolfes Road, Maria Stein, OH 45860
Popcorn Resources
Contacts
For more information, contact your Unit Kernel or Colin Earl at (419) 422-4356 ext. 153 or colin.earl@scouting.org.