Lima grad finds flight with Exploring program
Bryson Dick is the 2022 recipient of the Exploring College Scholarship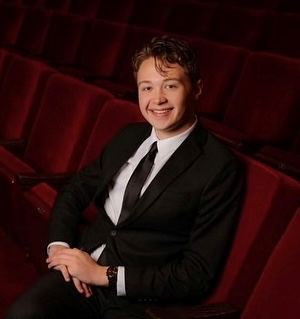 Bryson Dick is a graduating senior from Lima Senior High School. He will be continuing his education at the University of Oklahoma in Aerospace Engineering. Bryson has been involved in the City of Findlay Airport Aviation Exploring program since his freshman year of high school. Even through the pandemic, Bryson remained optimistic to remain in the program to continue learning about the aviation industry. Bryson initially became interested in aviation while in school and enjoyed learning about World War II, the Cold War era, and learning about the air and sky battles that occurred during that time. He was also interested in the new technology that was being utilized in the 1940's, ultimately sparking his interest in the aviation field.
During middle school, Bryson first learned about the City of Findlay Airport Aviation Exploring program from taking a career survey. He has always been interested in airplanes since he was a youth and enjoyed studying the history of the air force and what aviation has contributed to the world. After expressing interest in the program, he received a letter in the mail explaining there was program available for him, thus beginning his Exploring journey. Bryson's favorite memory throughout his time in Exploring was flying for the first time in a Cesna-150 with the Exploring program's post advisor, Bruce Ziegler.
When asked how he plans to contribute to society in the future, Bryson stated, "There are a lot of different career paths I am interested in pursuing, and there are many different ways my career can go within aerospace engineering. As of now, I am interested in working with racing teams, building model rockets, and conducting research and development work while in college to get relevant experience to eventually work with planes, aerodynamics, and space." Furthermore, he explained "We are constantly breaking ground and learning new things. It's been just over 100 years since the first flight happened, and we are learning about more efficient ways of travel. Moving forward, things will continue to change as new people, ideas, and inventions occur. Engineering is one of the careers where you are in the process and can see changes being made in real time."
Bryson is the 2022 recipient of the Exploring College Scholarship. He explained that Exploring tremendously impacted him, allowing him to network with industry professionals and speak with those within the aviation field. He believes that Exploring is essential for all youth to get involved with in order to learn more about various different careers . Bryson stated, "The program gave me the opportunity to explore my own curiosity, ask questions, and allowed me to have hands-on experience with those that work within the field."
Throughout his schooling, Bryson participated on the bowling and tennis team, served on youth government for 3 years, was a four-year member and president of his school's STEM club, played in band for three years and orchestra for nine years, and participated in the Lima area youth orchestra for four years.
Bryson eventually wants to work for an aerospace company, specifically in aerodynamics, to create more efficient aerodynamics within aircrafts and vehicles.